First of all, it's not just you. Many insurance consumers in the country are all getting the same news….rates went up – significantly, in many cases.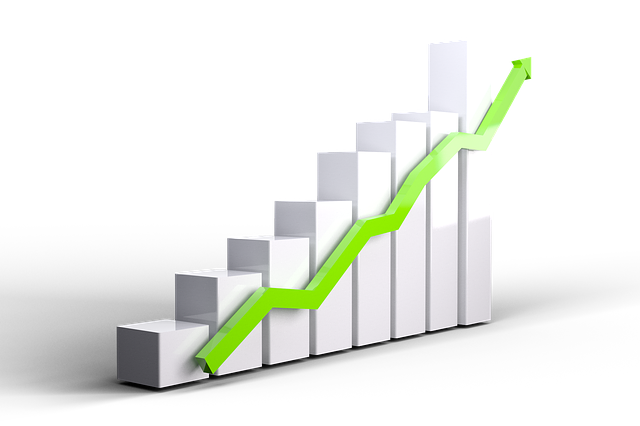 Sometimes, tickets/accidents or home claims do play a huge role in those rates and sometimes – it didn't have anything to do with you personally at all. It's the hard market rearing its ugly head.
What is a hard market? Simply put, it is a sudden tightening of the belt by the industry. Insurance companies track financial forecasting very closely, for many reasons, in addition to the fact that industry regulation requires it. This tracking shows some substantial, and not sustainable, financial difficulties if a sharp course correction does not occur.
The perfect storm. Over the last few years, a trifecta of inflation, a substantial increase in the number and severity of claims, and decreased returns on investments have put insurance companies in a position where dramatic correction is necessary to ensure that they can meet their obligations to their insureds.
Inflation has affected so many aspects of our economy, and unfortunately insurance is no exception. While premiums have been rising, they have not risen at the rate necessary to counter the increased cost of claims settlement, and thus a gap has been growing between the premiums collected by the insurance carrier, and the carriers cost to meet claims payout obligations.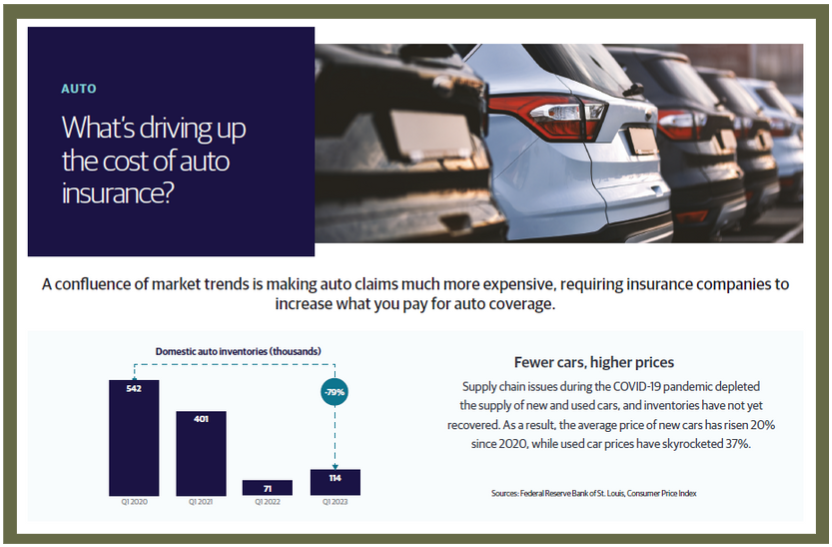 The road to recovery. As you can imagine, this is not sustainable, and claims reserves have been damaged. Here is what can be expected of the industry as it recovers:
Rates: when the good times are rolling, insurance companies compete for market share by offering lower rates. Now that the margins are tight, there is less worry about market share and more focus on building sustainable reserves.
Market Options: to insurance companies, risk (new policies) means costs. So, to cut costs, companies will limit the amount of new risk (new policies) that they take on.
Underwriting: Limiting the amount of risk present in current policyholders becomes of great importance. Carriers will deploy a variety of methods to look for elevated risk factors in your policy. Inspections on homes, driving record reports, and the use of technologies to assess risk, is happening on most renewals. Keep in mind, if they discover an adverse risk factor, they will take action. These actions can be as simple as advisement to monitor or resolve a situation, all the way to non-renewal of the policy.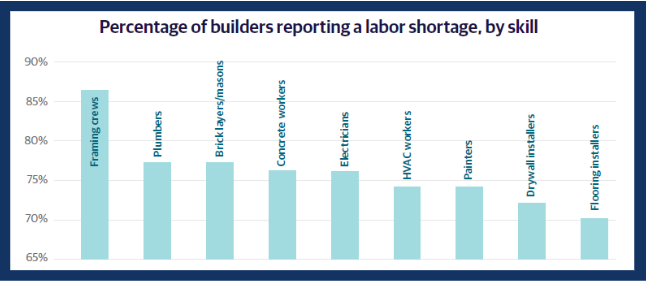 What you can do. We've summarized below but again, please read our blog here for more information
Careful driving is as important as ever. Do all that you can to avoid tickets and claims.
Maintain your home and do a walkaround to identify any risks that an inspector might. Ex: mossy roofs, piles of brush, debris, damaged siding. One of these factors alone could be enough for a company to non-renew your policy. It is worth the elbow grease to avoid this.
Consider a telematics program that can reward you good driving habits with discounts on your insurance. Depending on your driving habits there can be significant discounts!
Increasing your deductible(s) can be an easy way to reduce premium.
Be proactive to avoid claims. For example: invest in moisture sensors, maintain your roof, prepare your plumbing for freezing temperatures and practice safe driving habits .
Consider all costs when deciding to turn in a claim. "What will that claim do to my next five years of premium? What if having it on my insurance record makes me ineligible for most companies?"
Respond to all insurance correspondence promptly- this is one of the worst reasons to be non-renewed by your carrier, but it does happen.
What we can do. We are here to help you through this difficult time. We understand insurance can be a financial burden. We have every confidence that the industry will correct out of it. These cycles have happened in the past and historically the economy does correct out of it. We will all find our "new normal" together.
Please feel free to reach out to us.  We view our clients to be our community, like a small town, in which we want to do all that we can for our townspeople.  That may sound a little corny, but it is our driving factor each day, helping others.  Please know that we are here to help you in best way we can.

Our team. We value them so much and we hope you will too. Please know they are doing the best they can in this difficult insurance environment to help you, try to find options to the best of their ability and provide you with information for a better understanding of the situation. 
Thank you so much for allowing us to be  your insurance agency.
Kindest Regards – Michelle Hancock, Jake Walker, Ryan Stueber, Kim Peters & Sarai Sword
PNW Insurance Agency
Partnership Team