Looking for Classic Car Insurance in Washington State?
If you're looking for classic car insurance to protect your special ride, PNW Insurance Group is here to help. Whether you live in Puyallup, Ferndale, Monroe, or any other part of Washington state, PNW Insurance Group wants to help you find protection for your collector vehicle! Our job is to make sure that there are no hidden gaps in your policy. Give us a call or email to learn more about some ways you could save on your insurance.
What is the Difference Between a Classic Car and Regular Car Insurance Policy?
The main difference between classic car insurance and standard auto insurance policies is that a classic car insurance policy is based on the agreed value provision instead of actual cash value like a typical car insurance policy. The agreed value is an agreed upon value of your vehicle between you and the insurance company before a file is claimed whereas actual cash value is typically determined after a claim has been filed. In addition, with classic car insurance comes significantly lower deductibles ranging from $250 all the way down to a $0 deductible.
What is Considered a Classic Car?
So now that we've covered the difference between a normal car insurance policy and a classic car insurance policy, what qualifies as a classic car? Here are some of the most common factors that will help you determine what kind of vehicles will typically qualify for classic car insurance:
vehicle is usually at least 25 years old
in good condition
exotic or modern muscle car
modified vehicle
not a daily driver
There are a wide range of vehicles that may qualify for classic car insurance besides just classic cars or collector cars. A few vehicle types you may not have expected to qualify for classic car insurance include kit cars, exotic cars, modern muscle cars, military vehicles, street rods and even an antique vehicle such as a tractor.
If your vehicle does not meet any of these qualifications, you may still be eligible to purchase classic car insurance. Our local and independent insurance agents are here to help so if you have questions, give us a call or send us an email and we'll be happy to help as best we can!
What Does Classic Car Insurance Cover?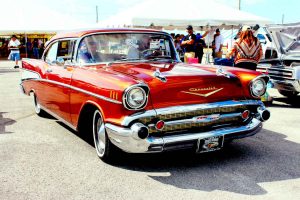 A classic car insurance policy should provide many of the same coverages as a standard auto insurance policy does. Coverages such as liability, UIM, and medical coverages like personal injury protection and medical payments coverage should all be available.
How Many Miles Can You Drive with Classic Car Insurance?
Typically, insurance companies will limit owners of collector vehicles anywhere from 2,500 to 7,500 miles per year. Some insurance companies don't have a mileage limit at all so if that's something you are concerned about it's important you shop around to see what different insurance companies have to offer.
What if My Classic Car Doesn't Qualify for Insurance?
If the value of your vehicle exceeds the normal range of what insurance companies see the value of it at, you may be asked to provide details such as pictures inside and outside of the vehicle. The normal range of your vehicle's value is usually determined by a combination of average market value in the area, NADA, and Kelly Blue Blook. If necessary, you may also need to provide extra information such as an appraisal as well as receipts if you had a custom paint job or any modifications done as well .
Protect Your Classic Car Today
We understand you may be concerned about the specifics of your classic car and the insurance policy you are carrying. So while we are based in Puyallup, we are happy to share that we also serve clients all across Washington state in cities like Ferndale, Monroe, Tacoma and yes even Spokane!
Our local and independent insurance agency is ready to answer all your questions. Get your online quote from one of our independent car insurance agents today!