Summer in Washington state can be a really fun time. If you're looking for some fun, local things to do that won't break the bank before the summer ends, grab a friend or some family and try out one of these activities on our list! We do have to mention that this list will be best suited for those looking for things to do near Puyallup but feel free to use it as inspiration if you are not local to the area!
Pick some blueberries


It's blueberry season! You can visit Spooner Farms in Puyallup or Charlotte's Blueberry Park in Tacoma and pick some blueberries. Both of these blueberry farms offer u-pick options and can be a fun way to enjoy the summer weather while gathering a delicious snack!

Visit a Sunflower Festival

Have you ever been to a sunflower festival? Spooner Farms and Maris Farms both have large sunflower festivals you won't want to miss.

Play mini golf

Head on out to your local mini golf course for a fun time with the family! If you are local to the Puyallup area KING Family Fun Center or Mike N Terry's Outdoor Fun Park are a couple of options that come highly recommended for some mini golf.

Go on a hike


The warm weather in Washington doesn't last long so take advantage of it while it's here and go on a refreshing hike! Here are some great Washington state hikes you won't want to miss. (And don't worry, these hikes won't require you to have a pass or pay a fee.)
Rattlesnake Ledge

Location: North Bend
Distance: 4 mi. round trip
Elevation Gain: 1160 ft.

Chambers Bay Loop

Location: Chambers Bay
Distance: 3.25 miles
Elevation Gain: 315 ft.

Puyallup Loop Trail

Location: Puyallup
Distance: 4.2 miles round trip
Elevation Gain: 429 ft.

Mount Catherine

Location: Snoqualmie Pass
Distance: 3 mi. round trip
Elevation Gain: 1330 ft.

High Rock Lookout

Location: Ashford
Distance: 3.2 mi. round trip
Elevation Gain: 1365 ft.
Cool off with a sweet treat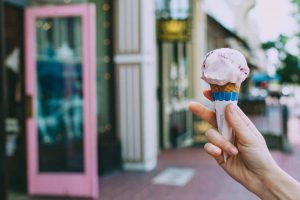 Looking for a way to cool off? Grab some ice cream or froyo from your local shop! A couple of great shops in the Puyallup area are Elements and Gabe's Old Fashioned Ice Cream.
Check out your local farmers market
Of course, we will be biased towards the Puyallup Farmers Market but visiting any local farmers market is a great way to support local businesses in your area! Here are the details on some local Puget Sound farmers markets:
Dates & Times: Every Saturday, Apr. 10 – Oct. 9 from 9am – 2pm
Location: 300 S Meridian, Puyallup, WA 98371

Dates & Times: Every Thursday, May – Aug. from 10am – 3pm, Sep. – Oct. 10am – 2pm
Location: 925 Broadway, Tacoma, WA 98402

Dates & Times: Every Thursday, May 3 – Oct. 7 from 3pm – 7pm
Location: 1717 Bellevue Way NE, Bellevue, WA 98004

Dates & Times: Every Sunday, Jun. 6 – Sep. 19 from 10am – 3pm
Location: 1140 Auburn Way South, Auburn WA 98002

Dates & Times: Every Sunday year-round from 11am – 3pm
Location: E Denny Way between Broadway & 10th Ave E

Dates & Times:
Location: 1730 10th Ave NW, Issaquah, WA 98027

There are many ways to enjoy all Washington has to offer during the summer months, so just pick something and go! If you decide to pick one of the activities on our list be sure to share your trip with us on Instagram or Facebook as we would love to hear about it!