By Ryan Stueber, Agency Co-Founder & Agent
The truth about what happens when I get into an accident with an uninsured driver? Do I have enough uninsured motorist coverage?
"I thought Auto Insurance is required to drive in Washington state!?" says Bob, 30 minutes after an accident with an uninsured motorist. "Why the heck do I have to pay a deductible to get my car fixed when it was his fault?"
Sadly, I've had this conversation many, many times over my ten years as an insurance agent. The unfortunate truth is that in Washington, while the government requires Auto Insurance by law, the means to enforce this law are minimal – generally only by being pulled over for another offense or worse yet, at the scene of the accident! While there is no database to tell us how many people are driving without insurance (which is part of the problem), experts estimated the number to be as high as 17%
How can I protect myself from uninsured drivers?
Enter the Excess Uninsured Motorist policy
Some, but certainly not all, insurance companies offer this coverage as an extension of their Personal Liability Umbrella policy. You may select to add $1,000,000 in additional (excess) Uninsured Motorist coverage on top of the coverage included on your Auto policy. Typically costing only $200-$300/year, this extra coverage can make the difference in providing you the funds to get the care you need without saddling you with a mountain of medical debt.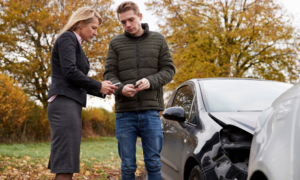 While damage to your vehicle by an uninsured driver is a hassle, damage to your health is much more severe. In 2019, over 27 percent of auto accidents nationwide involved injuries, and from experience, I have seen the most severe accidents be caused by uninsured, and usually under the influence, drivers.
Below is a typical hierarchy of how you will cover your medical bills in an accident with an uninsured driver.

While this might seem like a lot of layers of protection, it's incredible how quickly the medical bills can exceed the pool of money available.
Consider this true story.
Three years ago, one of my clients was driving home from work late at night when he was hit head-on by a drunk driver going the wrong way on I-5. The other driver had no license or insurance, so it fell upon my client's Personal Injury Protection (PIP) and Uninsured Motorist coverage to cover his injuries. Even with help from his health insurance and the $100,000 limit from his Uninsured Motorist coverage, he was left only partially rehabilitated and with over $800,000 in medical debt. He may never be able to work again to help his family repay that debt.
If you would like to get a quote or learn more about this type of coverage, please reach out, and our team will be happy to help!