As a lifetime cat owner I've spent many hundreds and probably thousands of dollars on vet bills over the years. Until a couple of years ago, I had never heard of Pet Health Insurance or if I did, I had quickly dismissed the idea as silly and quickly forgot about it.  I was of the school of thought that when one of my cats got sick, I would pay up to a reasonable amount to get them healthy again but if it was their time I wasn't going to take out a second mortgage to try to keep them alive.
Now I think back to a day four years ago when my wife and I were in the vets office with our four year old cat Jack. He had some serious issues going on and the vet and he was in a lot of pain. They could put him on dialysis to try to help the issue,  and keep him overnight in the hopes that he would recover but it was maybe a 50/50 shot at best. The cost? Well, alot more than we could pay at the time.  At that point my wife and I made the tough decision to let the vet go ahead and put Jack to sleep. It was very hard to do  but we felt that we made the responsible decision at the time.
Fast forward to today with what I now know about Pet Insurance- Would we have made the same decision if we knew that insurance would have paid for 90% of Jack's medical bills? Would our cat still be alive? That's a tough question and makes my stomach clinch a bit just thinking about it.
What is Pet Insurance?
Pet Insurance or Pet Health Insurance as it's sometimes called has been around since the mid 1980's and is remarkably similar to (and in some cases better than) our own health insurance.
You get to choose from a variety of deductibles and co-pay options. There are plans that just cover injury and major medical and there are also plans that will cover annual check ups and other wellness related bills.
Most plans allow you to go to any vet you want. You pay the vet and then send the receipt in to your pet insurance company and they send you a reimbursement check.
Is there fine print and certain things that are excluded from coverage? Of course, but the vast majority of illnesses and injuries do get covered.
How much does pet insurance cost?
I just priced out our new cat, Cole with two of our top pet insurers and the cost range was surprisingly similar. For a two year old cat, I would be paying as low as $19/month for a Major Medical Plan up to $31/ month for a full Wellness Package that would cover regular vet bills and shots. Doing the math, that's $372/year. Our annual check-up runs around $150. So is it worth the extra $222/ year to potentially save thousands of dollars in vet bills should something happen to Cole? For my wife and I the answer was "yes" $31/ month is definitely worth the it for that peace of mind.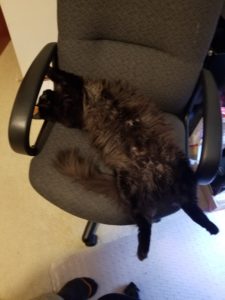 Here is Cole, resting easy knowing he has health insurance!
The pricing does vary quite a bit base on the type, breed and age of your pet. For example, if Cole was 5 years old instead of two, the price for the plan we chose would be $44/month.
But what about dogs? If Cole was a 5 year old German Shepard, insurance would range from $55/month for accidents and illnesses only to $135/month for a full wellness package.
Is Pet Insurance worth it?
That is a very tough and very personal question and your answer will depend on many factors and your own financial situation.  What sold us was the peace of mind that we won't be forced to make a decision on whether our cat lives or dies based just on the cost of treatment. Pets become a part of the family and protecting them is now much easier and affordable.
If you are interested in learning more about Pet Insurance please give us a call or check out our pet insurance comparison. !  Here is a link to our pet program offered thru Nationwide, the oldest pet insurer in the Nation! If you have Nationwide home and auto you can also get a discount!  www.petinsurance.com/pnwinsurancegroup   
You do not have to have home or auto thru Nationwide to get their pet product but if you do, there is an additional discount.
Please take a look at the coverage options today – it might not be as expensive as you think!