Looking for Earthquake Insurance in Washington State?
Earthquakes are always a hot topic here in Washington state and the Pacific Northwest. It seems like every other month we get a reminder from the experts in the field that we are primed for a large earthquake and how woefully under-prepared we will be when it happens.
At PNW Insurance Group in Puyallup, we have access to some the best Earthquake Insurance companies in the industry and will be happy to build a custom policy for you. Whether you live in Puyallup, Ferndale, Monroe or any other part of Washington state, PNW Insurance is here to help. Get an online earthquake insurance quote today!
What is earthquake insurance?
Earthquake insurance provides protection for you and your family in the event an earthquake causes damage to your home and personal property.
Does my homeowners insurance cover earthquakes?
It is important to understand that Home and Renters Insurance typically do not cover earthquake damage. While a few Home Insurance companies will allow an Earthquake Endorsement to be added to their policy, most often, a separate Earthquake Insurance policy must be purchased.
If I'm a renter, do I need earthquake insurance?
Although you may not be a homeowner, earthquake insurance can still be an incredibly useful resource available for you. Contact us today if you are looking for an earthquake policy as a renter.
What does earthquake insurance cover?
A typical earthquake insurance policy will include the following coverages:
Dwelling coverage – repairs damage caused to your home as well as any extended structures such as a pool or shed.
Personal property coverage – reimburses you for the cost of your personal belongings.
Loss of use coverage – covers additional living expenses in case you might need a hotel to stay in due to earthquake damage that has made your home inhabitable.
Do I need earthquake insurance?
When deciding whether or not you need earthquake insurance, it's important to consider these following factors as suggested by the U.S. Geological Survey.
Proximity to active faults
Frequency of earthquakes in your area
Amount of time passed since the last earthquake
Your home's, construction type, layout, materials used and quality
The value your home and its contents
The cost to insure the home
This map from the USGS provides additional context and shows how frequently scientists expect damaging earthquake shaking around the United States. For those of us up here in the Pacific Northwest and Washington state, it's important to be aware of the increased likelihood of earthquakes in our area compared to the rest of the country.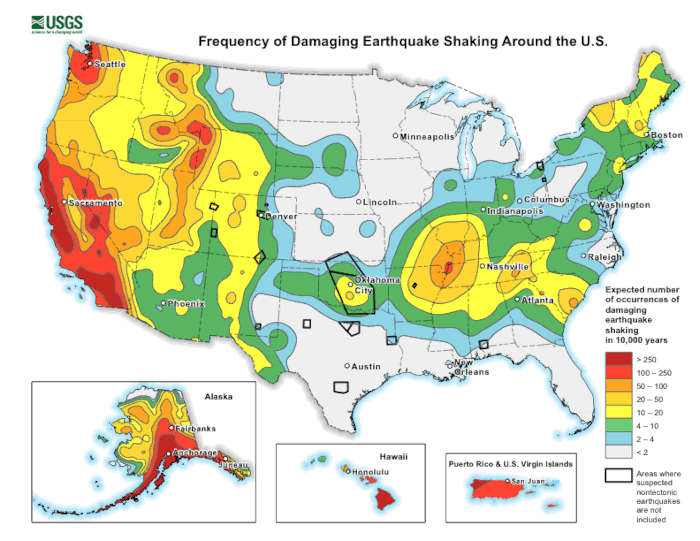 Now, while it may be true that government disaster assistance programs such as FEMA should provide support, it's important to know that programs such as this are only designed to provide immediate assistance. Learn more about earthquake insurance from our blog to make sure you are properly prepared.
How much does earthquake insurance cost?
The average cost of earthquake insurance in the US is about $800 but is also largely subject to factors including:
Your zip code
The age of your home
Distance of your house to fault lines
The materials your home is made out of
How much it will cost to rebuild your home
There's certainly a lot to consider when thinking about purchasing earthquake coverage. If you're still unsure whether or not you should add earthquake insurance, contact us today and we will help walk you through decision making process confidently.
Is earthquake insurance worth it?
Many debate whether or not adding earthquake insurance is actually worth it due to high deductibles and premiums.
Deciding if earthquake insurance is worth it is entirely based on the risk profile of each individual. As the map displayed earlier shows, Washington state has a much higher risk of earthquakes. We've all seen the damage earthquakes are capable of causing. So, while earthquake insurance is not a requirement like flood insurance may be, it is an addition that can definitely save a lot of money, headache, and pain in the event of a devastating earthquake.
Earthquake Insurance for Washington State Homeowners
To get started on your earthquake insurance quote today simply call our office directly or complete the fields below!
We understand you may be concerned about your home and your family's safety in the event of an earthquake. So while we are based in Puyallup, we are happy to share that we also serve clients all across Washington state in cities like Ferndale, Monroe, Tacoma and yes even Spokane!
Our local and independent insurance agency is ready to answer all your questions about earthquake insurance. Get your online quote from one of our independent earthquake insurance agents today!
If you'd like to learn more about earthquakes, we have taken the time to provide some excellent educational tools below to help you better assess your level of risk and how an Earthquake Insurance policy works:
Should I Have Earthquake Insurance?
How Does Earthquake Insurance work?
5 Ways to Prepare Your Family for a Major Earthquake
Click here to see a list of recent earthquake activity in our area